The club is located in the heart of Al Rabwa compound. It occupies an area of four Feddans. The design was implemented in a way that would allow all sections to overlook the golf course and the rest of the resort. The social building consists of two floors. The first floor includes a reception, restaurant, table tennis room, squash courts, designed in accordance with international measures, three swimming pools, and a health club.
The second floor includes a main salon, an elegant restaurant, a bridge room, a billiard room with a pool and snooker table, a terrace overlooking the swimming pools and the golf course.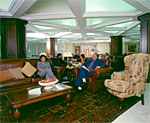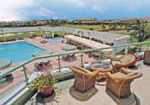 There are three different restaurants. There is "Le Bistro", "Le Pavillion" restaurant, which overlooks green stretches from all sides, and the "Pool Café", which overlooks the swimming pool and serves snacks and soft beverages.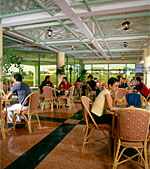 The billiard and bridge rooms have been designed with immaculate detail in terms of quality and elegance. The walls have been lined with wood as well as the floors. The billiard room has two American pool tables and two English snooker tables. The bridge room has some of the best quality tables and a lounge for players.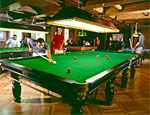 The club also includes:
Four Tennis courts,
Two Squash courts,
A Football field,
Volley court,
Basket court,
Handball court,
A Ping Pong room,
and three and nine-hole Golf course.
All playgrounds are lit at night and are designed in accordance with international standards.
There are three swimming pools; an outdoor and an in-door pool (that is warmed up during winter), and a children's pool. There is also a health club, complete with massage, a steam room, sauna and a beauty salon. The health club is furnished with the most advanced equipment and has the best trainers in their given fields.